CNBC got folks fired up when it came out with its top 10 worst states to live and work in. Texas, a state with a population of almost 30 million, came in as the worst state.
I've been to Austin and Houston a dozen times for work. They are fine cities with some mighty fine steaks. There is no state income tax too, which is sweet! But I really didn't get to see much of each city given I was meeting clients at their offices or taking them out for dinners.
For those of you who live in Texas or have lived in Texas, is Texas really that bad? I know the humidity is oppressive and property taxes are some of the highest in the nation. Could all those people migrating to Texas during the pandemic for a lower-cost lifestyle really be regretting their decisions today?
On social media, Texans usually like to bash Californians for its weather, politics, taxes, cost of living, and lifestyle. But here we have an independent third party bashing Texas! So what gives?
For the record, I've never bashed any city or state before. I've just shared my thoughts about living on the East Coast and West Coast based on my experiences. And my preference is toward west coast living after spending more than 10 years on each side.
Top 10 Worst States To Live And Work
Here are the top 10 worst states to live and work for 2023 according to CNBC:
Texas
Oklahoma
Louisiana
South Carolina and Alabama (tie)
—
Missouri
Indiana
Tennessee
Arkansas
Florida
Commonalities Of The 10 Worst States To Live And Work
Here are three commonalities amongst the 10 states that stood out immediately.
1) The hottest temperature states
For six months a year, it's damn hot in states such as Texas, Oklahoma, Louisiana, and Arkansas. However, Arizona, a state that averaged over 100 degrees F for 30 days this summer, is conspicuously missing. So is New Mexico. Therefore, extreme heat is not the only variable for a state to be considered one of the worst.
Personally, I would prefer to live in a state that doesn't get above 85 degrees and doesn't have a lot of humidity. My ideal temperature range is between a low of 65 to a high of 81 degrees.
2) Worst states are all Republican (red) states
Below are the results of the 2020 U.S. presidential election by state. Blue voted majority Democrat, Red voted majority Republican. What are the chances that all 10 of the worst states in America are majority Republican states? This seems implausible since the country is split roughly 50/50.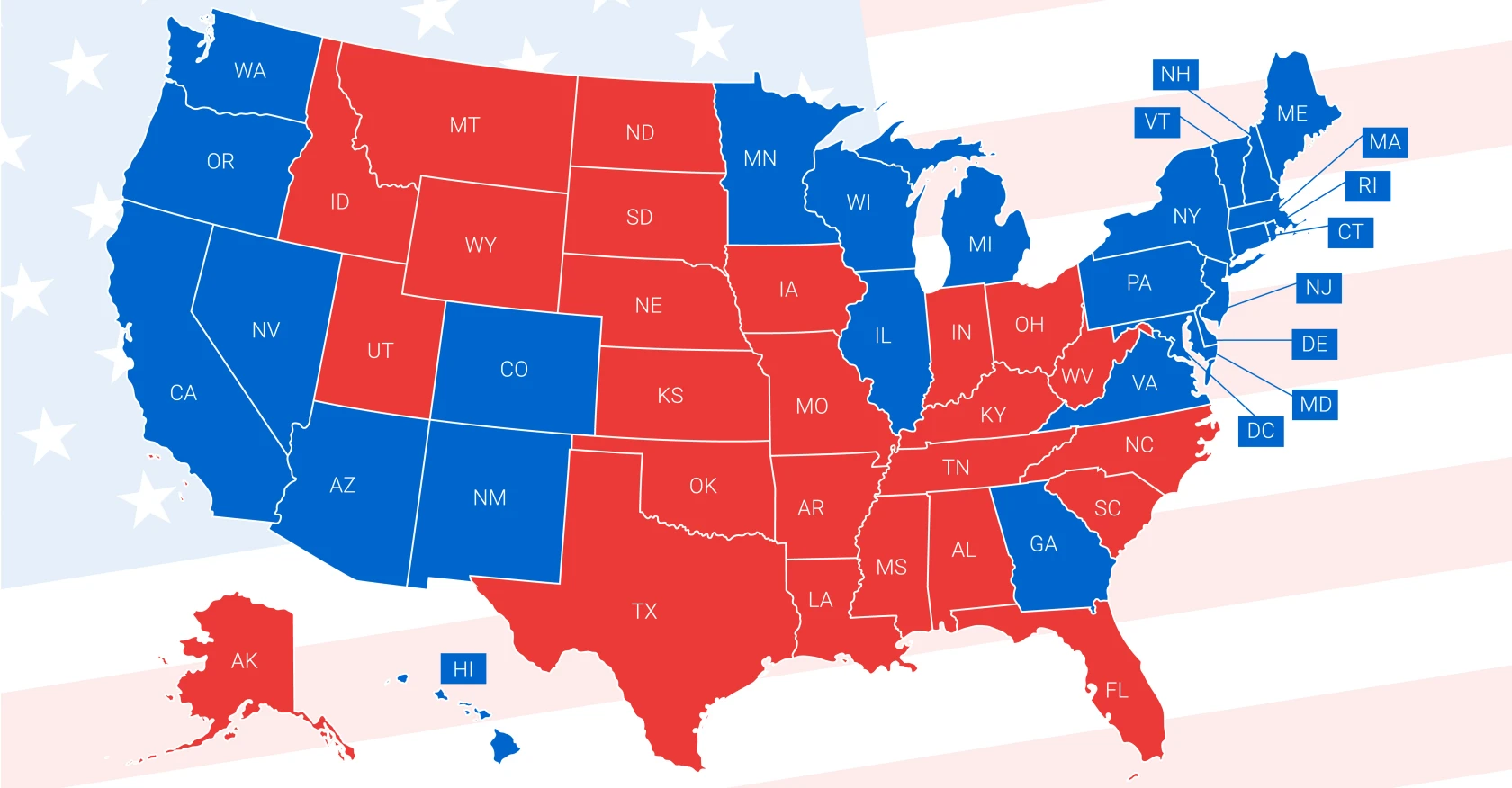 3) Poorer states measured by average household income
The final commonality I notice about the worst states to live and work is lower household income. According to World Population Review, below are the 11 states with the lowest mean (average) household income.
Mississippi – $65,156
West Virginia – $65,332
Arkansas – $69,357
New Mexico – $70,241 (not in the top 10 worst states)
Alabama – $71,964
Kentucky – $72,318 (not in the top 10 worst states)
Louisiana – $73,759
Oklahoma – $74,195
South Carolina – $76,390
Montana – $76,834 ( (not in the top 10 worst states)
Tennessee – $76,900
Here's where the other states on the top 10 worst states to live and work are ranked by mean household income.
15) Missouri – $78,200
24) Florida – $83,000
33) Texas – $89,500
Given Texas is at #33, its mean household income is pretty good. In fact, it ranks in the top half of all states. So perhaps money isn't the biggest variable to be ranked the worst state either.
Criteria Used For Ranking The Worst States
I think most of us will agree that experiencing 90+-degree heat for months on end is suboptimal. In addition, the majority of us would probably prefer to earn a higher household income. After all, according to one survey, those who make over $500,000 experienced ultimate happiness!
But it's also safe to say the vast majority of people who live in Texas, Oklahoma, Louisiana, South Carolina, Alabama, Missouri, Indiana, Tennessee, Arkansas, and Florida disagree vehemently that they live in the worst states!
Hence, it's worth understanding the criteria that went into CNBC's analysis, as well as its potential bias.
This is what CNBC has to say about its ranking methodology.
We consider multiple quality of life factors, including crime rates, environmental quality, and health care. We also look at the quality and availability of childcare, which is one of the most important factors in getting parents back into the workforce.

Casting the widest possible net for workers means not turning anyone away. So we consider inclusiveness in state laws by measuring protections against discrimination, as well as voting rights. And with surveys showing a substantial percentage of women considering abortion restrictions when making a choice of where to live in the wake of the Supreme Court overturning Roe v. Wade, reproductive rights are part of this year's equation as well.

Some states are putting out the welcome mat to attract the biggest, happiest, and most diverse workforce — America's Best States to Live and Work In. These are not those states. By the numbers, these are America's worst states to live and work in for 2023.
Finally, CNBC's global headquarters is in Englewood Cliffs, New Jersey. It also has a big office at 30 Rockefeller Plaza, Building 620 New York, New York 10112. Both New York and New Jersey are Blue states. As a result, it's hard to see CNBC ever insulting these two states.
We Can't Live In Every State, So It's Hard To Be Totally Objective
Best and worst states rankings are always interesting because they make us question our very livelihoods. Given Americans are free to live in any state they want, we might get offended when our state is ranked poorly.
Perception matters in terms of attracting work talent, funding, property values, and demographics. Heck, I'm kind of offended that Texas is ranked last because I have a number of private real estate investments in the state!
Even if we were able to live in every state in America, our experiences are different because of who we are and at what stage of life we're in at the time.
My life in Virginia was ho-hum as a high schooler, but got better as a college student. New York was a blast in my 20s, but I was too tired from working every day to enjoy it fully.
The annual World Happiness Report is also biased. Isn't it interesting how all the editors of the World Happiness Report are from the world's happiest countries? Yet, not one of the smartest countries in the world, as measured by IQ, ranks even in the top 30 countries in the world!
You would think, if people were so smart, they'd be able to get jobs in one of the 30 happier countries in the world to improve their lifestyles. This tells me humans will always be biased for their lived experiences, no matter how many "objective" criteria there are.
If the media organization ranking the worst states was based in Texas, you had better believe Texas would do better!
I'm Still Going With Hawaii As The Best State
As the son of a Hawaiian father, I've been visiting Hawaii since 1977. After living in Virginia, New York, and California for 32 years, I dare say the quality of life is much better in Hawaii. I've also visited about 30 other states.
However, career opportunities are much harder to come by in Hawaii. Similar jobs on the mainland US often pay 40% – 60% less. Meanwhile, the cost of food and shelter is much higher. Therefore, Hawaii may be in the bottom quartile for work opportunities.
For folks ages 45 and above, or who've accumulated a comfortable enough amount of wealth, Hawaii is my favorite state. I will absolutely retire in Hawaii once our kids go off to college. Before then, we plan to spend winters and summers in Hawaii during school break.
Make A Change If You Don't Like Where You Live
The best and worst states to live and work are subjective measurements with no absolute truths. It's kind of like Harvard University measuring Personal scores by race.
I'm sure there are plenty of people in Texas making good money and having great lifestyles. Just as I'm sure there are plenty of people who are struggling to get by in Vermont, CNBC's best-rated state.
If you dislike your state, find a way to move. Apply online for jobs in a new state. If money is tight, hop on a Greyhound bus and visit another state on your next vacation. The more we see of America, the more we can appreciate our great country.
Let's not get distracted by which state is better than another opinions. Instead, let's go out and explore more!
Reader Questions
Do you agree with the worst states in America to live and work? Why or why not? For those of you who live in Texas, Oklahoma, Louisiana, etc, please share some great things about your state! Do you think CNBC is biased against Republican majority states?
Related posts:
The Unhappiest Cities In America Based On A New Wealth Realty Ratio
States With No Estate Tax Or Inheritance Tax
States That Don't Tax Social Security Benefits
Recommendations:
Sign up with Empower to better manage your finances. Empower has the best free financial tools today. I've used Empower since 2012 to track my net worth, x-ray my portfolios for fees, and model out my retirement cash flow needs.
Listen and subscribe to The Financial Samurai podcast on Apple or Spotify. I interview experts in their respective fields and discuss some of the most interesting topics on this site. Please share, rate, and review!
For more nuanced personal finance content, join 60,000+ others and sign up for the free Financial Samurai newsletter and posts via e-mail. Financial Samurai is one of the largest independently-owned personal finance sites that started in 2009. 
Credit to
Source link