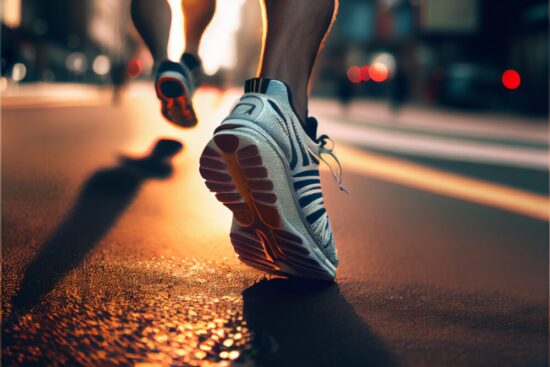 If you're an avid runner, you know the difference the right pair of running shoes can make. They need to be appropriately lightweight while also offering the required amount of support. Traction that suits the terrain is a necessity, as well as overall comfort. For many runners, the style also matters, and other factors may come into play. Fortunately, there are some excellent premium men's running shoes on the market. If you're looking for the best men's running shoes, here are five options to explore.
1. Brooks Ghost 15
For a smooth ride with exceptional comfort and durability, look no further than the Brooks Ghost 15. The line has long been known for its excellent feel, and the Brooks Ghost 15 is even lighter and softer than its popular predecessor, the Brooks Ghost 14. The midsole – which features the new DNA Loft v2 – practically molds to the wearer's foot, giving you the feel of a custom fit.
Plus, when it comes to price, the Brooks Ghost 15 is an investment, but not to the point of being cost-prohibitive for men who take running seriously. The fact that you'll get a lot of wear out of the shoes before a replacement is necessary also makes it easy to justify the cost.
2. Altra Torin 6
For a premium men's running shoe that also works for other physical activities, consider the Altra Torin 6. It has the cushion and support you need in a running shoe, but the design also makes it suitable for a wide array of other workouts. So, if you prefer one shoe that can do it all, the Altra Torin 6 could be your perfect choice.
Comparatively, the Altra Torin 6 is a little heavier than some alternatives, but it doesn't weigh you down as you cruise down the road or track. It also has a square toe box, so it works for runners with wide feet or who prefer a little more toe wiggle room.
3. Hoka Clifton 8
If you're a long distance runner that enjoys a bit of bounce from your shoe, you need to check out the Hoka Clifton 8. Among running shoes, it's incredibly cushiony and wonderfully soft, making it feel pillow-like while giving you that bit of spring you're after.
With the Hoka Clifton 8, you also get excellent impact absorption. Plus, even with all of that cushion, it's surprisingly lightweight. That makes this shoe a solid choice if you struggle with joint pain, particularly in your knees.
Another nice feature is the wider toe box. If you have wide feet or prefer some room around your toes, this design could be right up your alley.
4. Asics Men's Gel Nimbus 25
Another option that works well for running and other workouts – as well as a shoe for everyday wear – is the Asics Men's Gel Nimbus 25. It's a significant improvement over the Asics Men's Gel Nimbus 24, featuring PureGEL technology to soften landings and FF Blast Plus Eco cushioning for excellent bounce and comfort. While it's a solid option for any runner, the exceptional cushioning also makes this a strong choice for runners with previous injuries or joint issues.
Considering the amount of cushion, some may assume that this shoe would be a bit heavy. While this shoe isn't an ultralight, it isn't weighty either, so most people can run in it comfortably, even for long distances.
5. Minzuno Wave Rider 26
Among long distance runners, Minzuno is a go-to brand. The Minzuno Wave Rider 26 maintains the company's reputation. It's got excellent support and cushioning, but it also shines when it comes to style. Plus, it offers strong impact absorption, which is a boon for anyone with joint troubles.
As with some other shoes on this list, the Minzuno Wave Rider 26 isn't an ultralightweight shoe. However, the comfort you get from the cushioning offsets the weight, so it won't slow you down.
If you're looking for a great running shoes, take a look at one of the running shoes above. Your feet will be happy that you did.
Do you know of any other options people should consider if they're looking for the best men's running shoes on the market? Have you tried any of the shoes above and want to let others know about your experience? Share your thoughts in the comments below.
Read More:
Come back to what you love! Dollardig.com is the most reliable cash back site on the web. Just sign up, click, shop and get full cash back!
Credit to
Source link