RedBubble is a popular print on demand company (POD) that has provided creators an ecommerce marketplace to sell their work since 2006. But is RedBubble legit, how does it work, and what types of products can you buy and sell?
In this RedBubble review, I'll share everything you need to know about the website, whether you're an artist looking to sell your designs or a customer looking to buy one-of-a-kind items.
Get My Free Mini Course On How To Start A Successful Ecommerce Store
If you are interested in starting an ecommerce business, I put together a comprehensive package of resources that will help you launch your own online store from complete scratch. Be sure to grab it before you leave!
What Is Redbubble?
Redbubble is a print on demand marketplace where you can showcase and sell your creative works as an artist or designer. The platform allows you to upload your unique designs and print them on various products such as clothing, home décor items, and accessories.
As a customer, you can search the website's massive selection of creative and original designs by talented artists worldwide.
And when you're ready to buy, Redbubble offers a secure shopping experience, multiple payment options, and a reliable customer support team to assist you with any questions or concerns.
Is Redbubble Legit?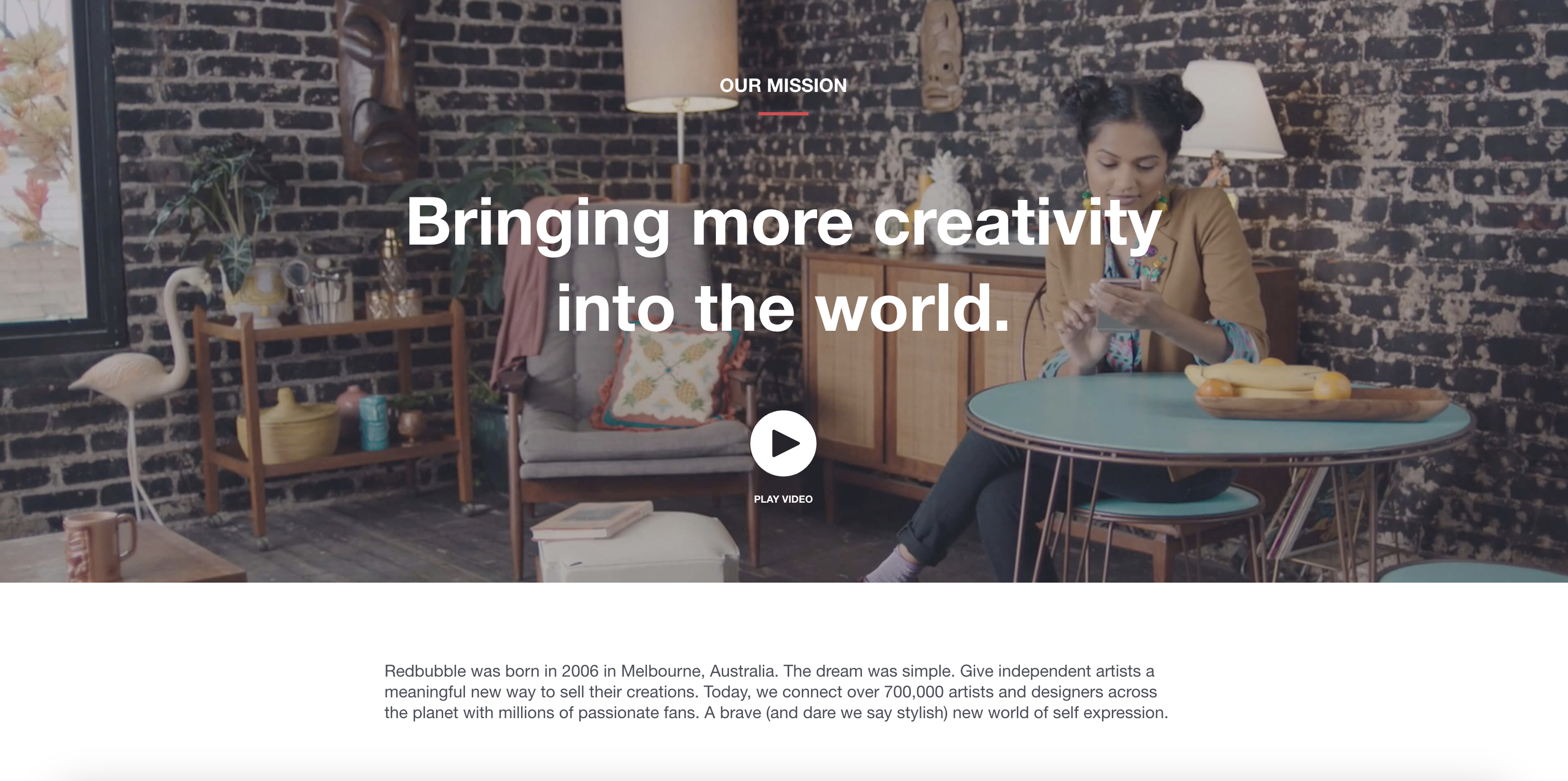 Redbubble is a legit company headquartered in Melbourne, Australia that is publicly traded on the Australian Securities Exchange (ASX), so you can feel confident that you're dealing with a reputable company.
The Redbubble website receives over 24 million monthly visits, offers multiple secure payment options, has a customer support team that is available to help 24/7, and they offer a 90-day money-back guarantee for all orders.
Is Redbubble Safe?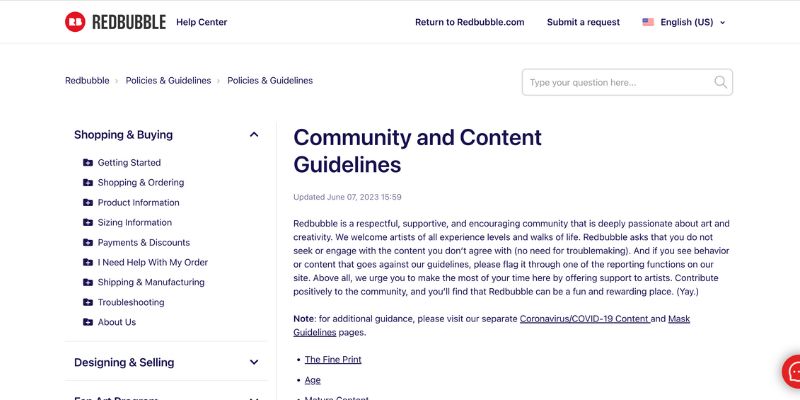 Buying from Redbubble is 100% safe because they offer an unconditional 90-day money-back guarantee for most orders.
Redbubble also uses SSL encryption to protect your personal and payment information during transactions.
Furthermore, Redbubble does not store payment information after completing your order, so your data remains secure. As a well-established business, you can trust Redbubble to provide a safe online shopping experience.
Redbubble Products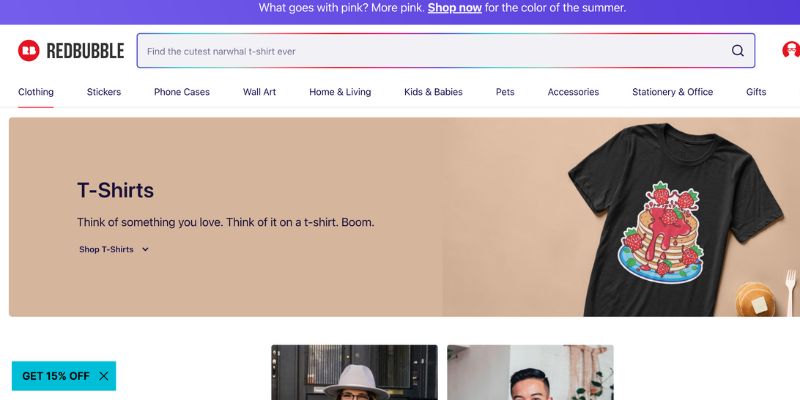 Redbubble's extensive range of products includes t-shirts, clothing, stickers, pet supplies, phone cases, and many other accessories created by artists worldwide.
Here are just a few of the items you'll find on the Redbubble website:
T-shirts
Hoodies
Dresses
Hats
Socks
Stickers
Magnets
Wall art
Mugs
Coasters
Shower curtains
Baby clothes
Pet supplies
Pet blankets
Pet mats
Backpacks
Totebags
Water bottles
Stationary
Greeting cards
Mousepads
Notebooks
Gifts for Him/Her
T-shirts are among the most popular products sold on Redbubble. They offer a huge selection of unique designs catering to different tastes. You can find and sell t-shirts made from 100% cotton or a blend of cotton and polyester.
The quality varies depending on the specific design and type of shirt, but, in general, Redbubble uses high-quality printing methods and materials.
As with most Redbubble clothing, you can choose multiple sizes, colors, and styles, making it easy to find the right product.
How Redbubble Works for Buyers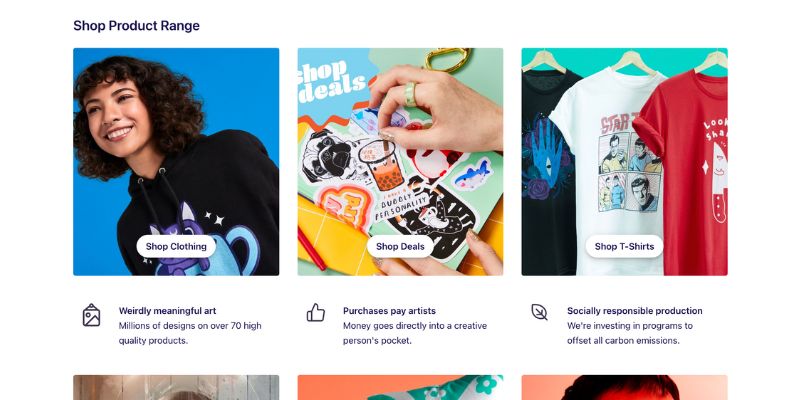 When a customer makes a purchase, Redbubble prints the artwork onto the product and ships it to the customer on demand.
Redbubble differs from other online marketplaces in that every item you order is custom-made by a 3rd party printer. There are no warehouses storing your items before you purchase them. Instead, when you place an order, it's sent to a printer close to you.
That said, the shipping location may vary depending on the product you're buying, so shipping costs and timelines can also vary.
Opening An Account
You can open a Redbubble account if you are 16 or older. To get started, head to Redbubble and click the "Sign Up" button on the top right corner of their website homepage. There is no cost to join.
You'll need to provide Redbubble with your email address, create a user ID, and a password. Once you've done that, Redbubble will activate your account, and you can start shopping.
Shopping On Redbubble
You don't need to open an account to shop on Redbubble, but there are benefits if you do. Being a member allows Redbubble to display items on your homepage based on your browsing and order history.
You can also save your favorite products to personal lists, and your shopping cart details are also saved in case you need time before you make a final purchase decision.
Redbubble Shipping
Redbubble publishes estimated shipping timelines for every product under the "Add to Cart" button, including express and standard shipping.
For an additional cost, express shipping will ensure that your order arrives earlier than standard shipping. Orders from independent artists ship from one or more of the following countries:
Australia
Canada
Czech Republic
France
Germany
Italy
Netherlands
Spain
United Kingdom
United States
If your item is being shipped from a different country than your own, you may be charged customs duties. The following factors contribute to the overall cost of shipping with Redbubble:
Standard or Express shipping
Where the item is shipped from
Where the item is being delivered to
The type of packaging used
The order amount
If you have multiple items being shipped from more than one location
What Is Redbubble's Return Policy?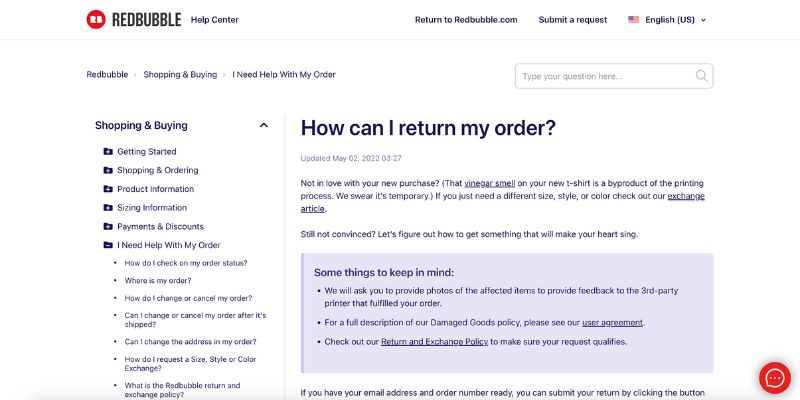 If you're unhappy with your purchase, you can request a refund for most items within 90 days of the latest estimated delivery date. Here is the process to follow to return an item to Redbubble:
Contact Redbubble's customer support with your order number, a description of the issue, and a photo of the product.
The support team will review your request and provide further instructions.
Once your refund is approved, Redbubble will process it and credit the amount using your original payment method within a few days.
Remember to reach out within the 90-day window to be eligible for a refund.
If an item you ordered isn't the proper size or color, Redbubble will allow you to exchange it by issuing a replacement order or voucher.
Is Redbubble Overpriced?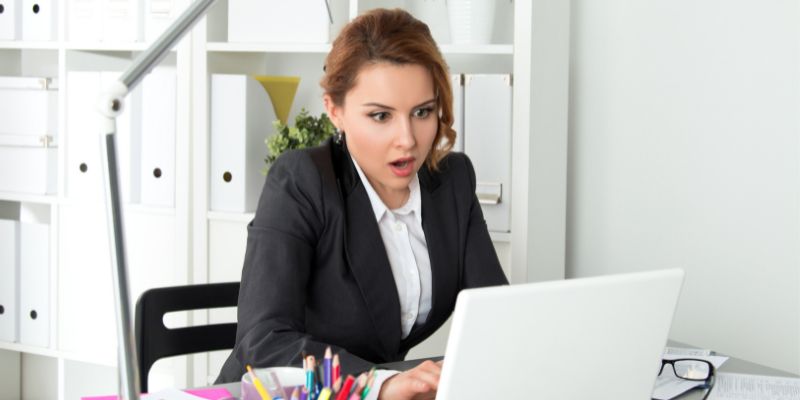 Redbubble's prices are reasonable, but prices will vary depending on the artist and item.
Because Redbubble handles production and shipping, these costs are factored into the final price.
T-shirts can range from $25 to $40 depending on the design and material.
Phone cases can vary from $20 to $45.
Art prints can start as low as $15 and go up to $100 or more for larger sizes and premium materials.
While some items may seem pricey, the unique designs, high-quality products, and support for independent artists make Redbubble a good choice for buyers.
Remember to consider quality and exclusivity when comparing prices with other online marketplaces.
How Redbubble Works For Sellers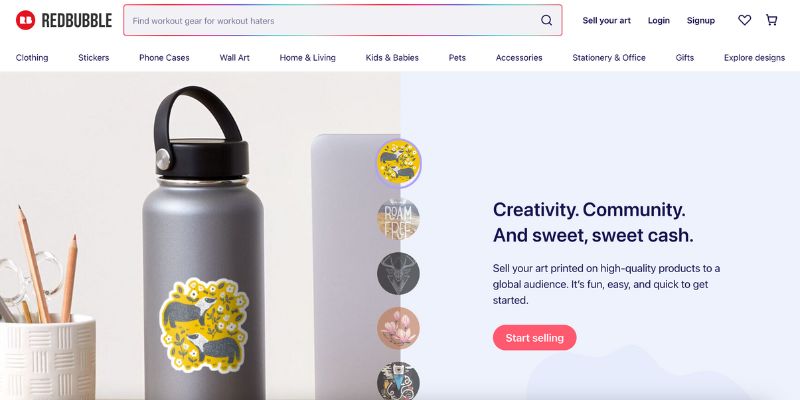 You can sell products on Redbubble by uploading your designs to the Redbubble website and setting your price. Redbubble will handle product fulfillment, including production, shipping, and customer service.
You can open a Redbubble seller account for free, and there are no monthly fees to maintain your account. However, Redbubble does charge an account fee when you make a sale.
Here's how the process works for sellers:
Create your designs and upload them onto products, i.e., t-shirts, mugs, phone cases, water bottles, etc.
Customize your shop to stand out to buyers. Redbubble allows you to add a profile picture, cover image, social media links, and a bio to your shop.
Customers can find and purchase your products on the Redbubble marketplace.
Redbubble arranges your product's production, packaging, and shipping to the buyer.
The customer receives their product, and you get paid from Redbubble minus the cost of the product and any selling or shipping fees.
How Much Can I Make Selling On Redbubble?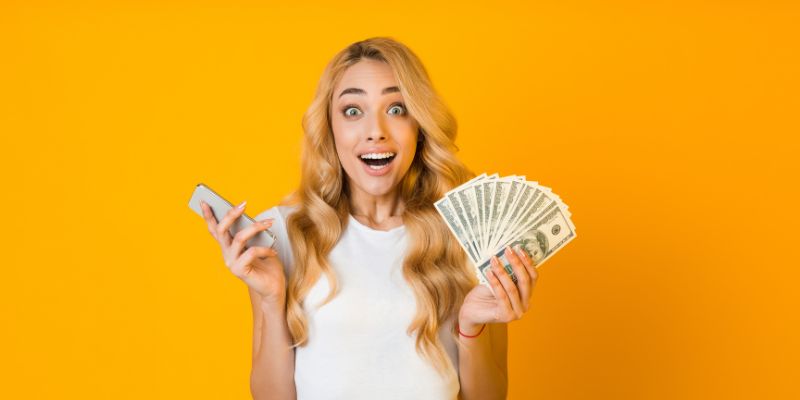 Beginner artists on Redbubble typically earn a few hundred dollars per month, while intermediate artists earn between $1,000 and $5,000 monthly.
However, some advanced artists make over $100k per year selling on the Redbubble site.
As a Redbubble seller, your earnings will depend on several factors, including the artist markup you set, Redbubble's account fee, the manufacturing fee, foreign currency fluctuations, and shipping costs.
Redbubble sellers set their prices by applying a markup to each product. Redbubble uses a default markup of 20%, but you can increase or decrease the percentage as you see fit.
According to Redbubble, the average markup is closer to 25%.
Redbubble Pricing Example:
Base Price + Artist Margin = Retail Price
Artist Margin = Base Price X Artist Markup(%)
Let's say the base price of a product is $50, and you set your markup at 25%. In that case, the retail price of your product will be $62.50 ($50 X 25%), excluding taxes and shipping.
Your total earnings per sale would be $12.50. If you set a 20% markup, your earnings would only be $10.
Your cash earnings will change if your base price increases or decreases due to discounts, increased manufacturing costs, currency fluctuations, or other variables.
How To Get Paid On Redbubble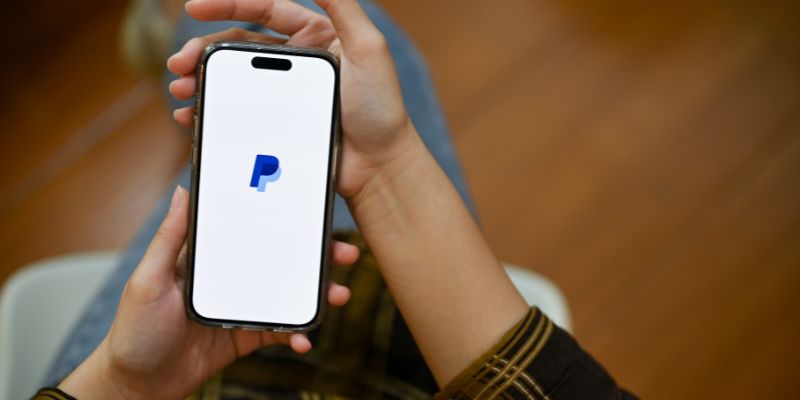 To get paid on Redbubble, you must meet the minimum payment threshold of $20 during the monthly payment cycle and have full payment details entered on your Redbubble account profile. If you do, you will receive payment by the 15th of every month.
If you haven't reached the $20 payment threshold, Redbubble will allow your earnings to accumulate until then.
Anyone who has earned $2 or more but has not reached the monthly threshold will receive an annual payment with their total earnings in December.
You can collect payment from Redbubble via PayPal or a bank transfer.
Understanding Redbubble Account Tiers
All Redbubble seller accounts are classified into the following tiers: Redbubble Standard, Redbubble Premium, and Redbubble Pro.
Effective May 1, 2023, Redbubble introduced an account fee for the Redbubble Standard tier.
According to Redbubble, the fee was added to offset the increased costs Redbubble has faced due to a significant increase in seller accounts in recent years.
The account fee is a flat fee based on a seller's monthly earnings. You don't pay any fees if you don't make any sales.
The fee is calculated on your total monthly earnings and is determined by Redbubble's fee table, which you can find in the Help Center on Redbubble's website.
Here are a couple of examples to give you an idea of how much you might pay:
Account Fee Examples
| | |
| --- | --- |
| Monthly Sales  | Account Fee |
| $5 to $5.99 | $2.30 |
| $20 to $24.99 | $9.20 |
| $50 to $59.99 | $22 |
| $100 to $149.99 | $34 |
| $250 to $299.99 | $60 |
| $500 or more | $92 |
As you can see, the account fee drops as a percentage of your overall earnings as your earnings increase.
Redbubble does not charge an account fee to Redbubble Premium and Pro members.
Redbubble classifies accounts based on various criteria, including account activity, seller success, and how closely a seller follows Redbubble's community and content guidelines.
Here's a closer look at each account tier.
Redbubble Standard
Redbubble Standard is the entry point for new sellers. You can move from Standard to Premium as you develop your personal brand, create and upload content, generate sales, and promote your account on your social media channels. Redbubble also expects you to follow the community and content guidelines.
Redbubble Premium
Redbubble Premium sellers have an established follower base, personal brand, and a track record of creating unique products to sell. There is no account fee associated with the Premium tier. While most new sellers will start in Redbubble Standard, you may qualify for Premium immediately if you meet the criteria upon signup.
Redbubble Pro
Redbubble's top sellers qualify for the Redbubble Pro tier. They generate consistently high sales, spend a lot of time growing and promoting their Redbubble store, and have an established following. Redbubble reviews top sellers at the beginning of every year and invites new members into the Pro tier.
RedBubble Pros and Cons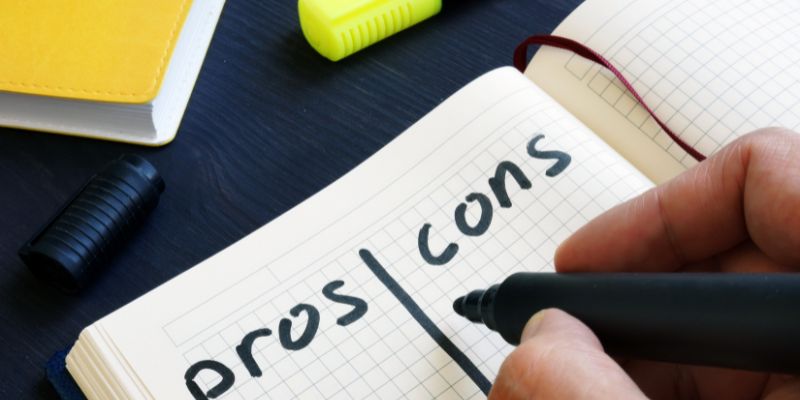 Redbubble offers a safe and reliable selling platform for artists to sell their designs, and shoppers can expect reasonable prices and fast shipping in most cases. But Redbubble also has some drawbacks. Here's my list of pros and cons:
Pros:
Trustworthy Platform: Redbubble is the world's largest print on demand marketplace in terms of traffic and has been around since 2006, so they should be trusted as a reliable platform for buyers and sellers.
Huge Organic Reach: Redbubble gets a lot of traffic from search engines like Google, increasing the chances of your products appearing in online search results.
Large Product Selection: With over 700,000 creators selling on Redbubble, there is no shortage of items.
No Upfront Costs for Artists: Redbubble doesn't charge any setup or monthly fees, so you don't pay anything to Redbubble until you sell a product.
User-Friendly Interface: Thanks to an intuitive platform, setting up an account and starting to sell your work is easy.
Cons:
Limited Integration: Redbubble does not integrate with other online marketplaces, like Ebay, Amazon, or Etsy, making it difficult to sell on multiple platforms.
Competition: With so many sellers on Redbubble, it can be challenging to stand out and get noticed by potential customers.
International Shipping: While Redbubble does ship internationally, their shipping times can be slower than some competitors, which might affect customer satisfaction.
Overall, Redbubble is an excellent marketplace for artists and customers. Just be sure to weigh the pros and cons carefully to determine if it's the right fit for you.
Redbubble Alternatives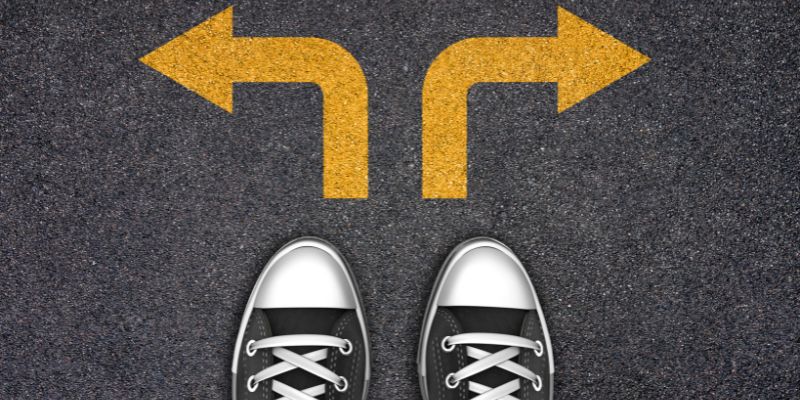 Redbubble has plenty to offer buyers and sellers alike, but there may be better platforms if you want to sell your designs on multiple marketplaces. Before you sign up with Redbubble, here are a few alternatives:
Printful
Printful is a global print on demand printing and fulfillment company with 15 fulfillment centers located worldwide. As with Redbubble, there are no minimum order requirements, and the products you sell are created when the customer orders.
There are no monthly fees for selling on Printful. You'll only pay when you've sold a product, and Printful fulfills and ships the order.
And Printful emphasizes quality in its production process by putting all items through a 3-step quality check before they are shipped to the customer.
Unlike Redbubble, Printful integrates with several 3rd party marketplaces, such as Etsy, Amazon, Ebay, Ecwid by Lightspeed, and Gumroad, making it easy to sell your Printful creations on multiple platforms.
Printify
Printify is a print on demand company that lets you put your designs on more than 850 products and sell them to customers worldwide. You can use Printify's free design tools to add your custom designs to t-shirts, mugs, water bottles, phone cases, etc.
What separates Printify from other print on demand websites is that they allow you to choose the provider that best fits your needs, giving you more control over product quality and shipping times.
Printify also integrates with many ecommerce platforms, including Etsy, Shopify, Ebay, and Amazon, allowing you to sell your products on multiple marketplaces.
Sellfy
Sellfy is an ecommerce website that allows creators to sell digital products and print on demand merchandise. With 32,000 creators using Sellfy, it's a smaller platform than Printful and Printify.
You can open a store directly on Sellfy or sell products on your own website by adding a Buy Now button and shopping cart from Sellfy.
There are no transaction fees with Sellfy, but sellers must choose from 3 monthly service plans: Starter, Business, and Premium.
Pricing ranges from $29-$159 monthly, but discounted pricing is available if you pay annually or bi-annually.
If you're planning to sell digital downloads, Sellfy is worth considering. However, the monthly fee makes Sellfy more expensive for sellers than Redbubble, Printify, and Printful.
Is Selling On Redbubble Worth It?
Selling on Redbubble is 100% worth it if you are an artist or creative who wants to make money on the side without worrying about inventory, fulfillment, or shipping.
Redbubble allows you to upload your designs onto hundreds of different products. With millions of website visitors each month, Redbubble gives you the potential to reach a large audience.
Unfortunately, you can't sell the products you create with Redbubble on other ecommerce platforms, like Etsy, Ebay, Amazon, Shopify, etc. If that's important to you, you may want to consider selling on another platform, like Printful and Printify.
FAQs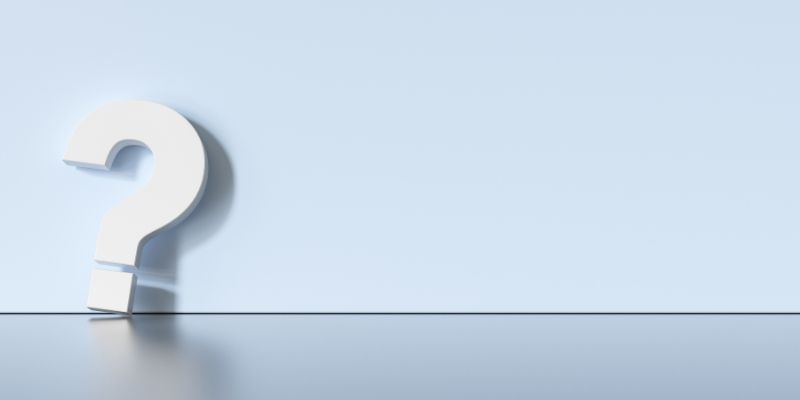 Does Redbubble ever have sales?
Occasionally, Redbubble offers discounted pricing to shoppers. You may find some great deals by checking their website during popular shopping days, such as Black Friday and Cyber Monday.
Does Redbubble sell counterfeit products?
No. Redbubble is a legitimate print-on-demand platform that collaborates with independent artists to sell their original artwork on various products. Redbubble ensures the authenticity of products and does not support counterfeit goods.
What are the most common Redbubble complaints?
Some common complaints from Redbubble customers include receiving items with different colors or image quality than expected, slow shipping times, and difficulty with the return process.
However, it's important to remember that Redbubble is a large marketplace with many independent artists, so these issues can arise. Redbubble has a customer service team to assist with any concerns or complaints.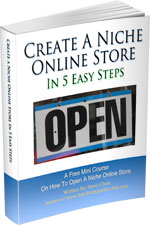 Ready To Get Serious About Starting An Online Business?
If you are really considering starting your own online business, then you have to check out my free mini course on How To Create A Niche Online Store In 5 Easy Steps.
In this 6 day mini course, I reveal the steps that my wife and I took to earn 100 thousand dollars in the span of just a year. Best of all, it's free and you'll receive weekly ecommerce tips and strategies!
Note: This post above may contain affiliate links, which means that I may receive a commission if you make a purchase when clicking a link. Please consult our privacy policy for more information.
Related Posts In Ecommerce Marketplaces
About Steve Chou

Steve Chou is a highly recognized influencer in the ecommerce space and has taught thousands of students how to effectively sell physical products online over at ProfitableOnlineStore.com. 
His blog, MyWifeQuitHerJob.com, has been featured in Forbes, Inc, The New York Times,  Entrepreneur and MSNBC.  
He's also a contributing author for BigCommerce, Klaviyo, ManyChat, Printful, Privy, CXL, Ecommerce Fuel, GlockApps, Privy, Social Media Examiner, Web Designer Depot, Sumo and other leading business publications.
In addition, he runs a popular ecommerce podcast, My Wife Quit Her Job, which is a top 25 marketing show on all of Apple Podcasts. 
To stay up to date with all of the latest ecommerce trends, Steve runs a 7 figure ecommerce store, BumblebeeLinens.com, with his wife and puts on an annual ecommerce conference called The Sellers Summit.  
Steve carries both a bachelors and a masters degree in electrical engineering from Stanford University. Despite majoring in electrical engineering, he spent a good portion of his graduate education studying entrepreneurship and the mechanics of running small businesses. 
Credit to
Source link