A few more kids are being taught financial literacy than in the past, but most still aren't—leaving technologies such as investing apps to help bridge the gap.
Currently, fewer than 23% of U.S. high school students are required to take a personal finance course to graduate, according to Next Gen Personal Finance (NGPF). That's certainly better than 17% just a few years ago, but it still means most teens and young adults aren't improving their financial literacy through school.
The problem is nationwide. The American Public Education Foundation's "Nation's Report Card on Financial Literacy" found that roughly two-thirds of U.S. states received a grade of C or lower "based on currently available state-wide requirements, standards, and curriculum for personal finance."
Clearly, many teens aren't receiving the comprehensive financial advice they need.
When youths can't necessarily rely on their schools to learn about finances, they need help from their parents, and to an extent, they need to teach themselves. Fortunately, a variety of money apps for teens and young adults can help them manage their money, teach them how to be financially responsible, and make saving for the future easier.
In this article, we cover the best investing apps for teens, under 18 year olds, minors, young adults—whatever group to which you feel you belong—where you can manage your money, invest, and watch it grow. To help you find the money app that's right for you, we've explored everything that these stock apps can do, from investing to budgeting to banking and more.
(Editor's note: Some apps are wide-ranging financial apps that provide several services, and thus offer more than stock trading functionality.)
Best Investing Apps for Teens—Our Top Picks
---
Best Brokerage Account + Debit Card for Teens
Best Investing Apps for Teens, Minors + Young Adults
---
Want to learn how to invest as a teenager or young adult? If so, numerous investing apps provide easy ways to invest—though, depending on your age, a few might require overcoming some legal roadblocks.
If you begin your investing journey early, even modest gains will give you a major advantage in where your finances will start as a young adult. Despite the volatility of the past couple years, holding money in the stock market over the long term has created wealth for countless individuals. And you can use one of your best advantages—your young age—to get a head start!
Just understand that if you're a minor and you want to use stock apps for teens, you'll face one basic problem: You're not allowed to open your own brokerage account. While many investing apps (e.g., Webull, Robinhood, Acorns) look well-suited to young investors, you generally still need to be at least 18 years old to invest by yourself in the United States.
But that's OK.
You can get around this roadblock in a number of ways. One such way is to have a parent or legal guardian open a custodial account. This type of account lets you use investing apps for minors while you're still young and through adulthood, when they'll revert to your name. Other investing apps (including our top investing app for teens!) use different methods to sidestep this issue.
Related: The 10 Best Micro Investing Apps
1. Fidelity® Youth Account (Top Investing App for Teens)
---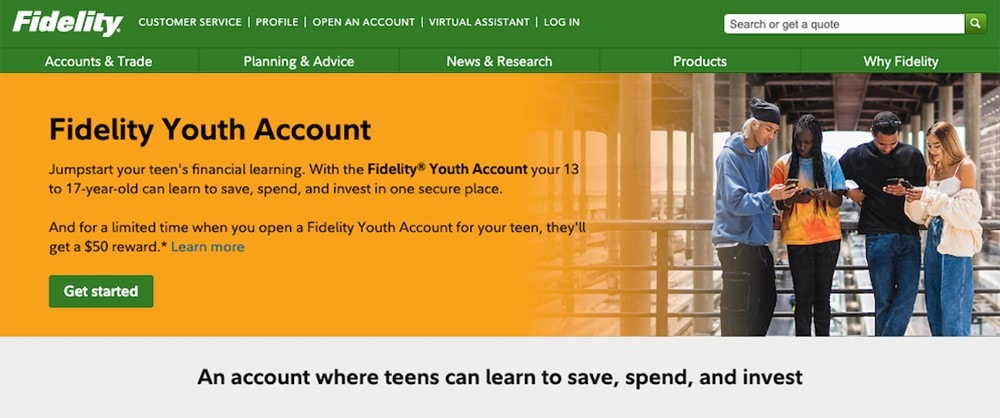 Available: Sign up here
Price: No account fees, no account minimum, no trading commissions
Promotion: Teens get $50 on Fidelity® when they open an account; parents get $100 when they fund a new account
Is your teen interested in jumpstarting their financial future? Do you want them to build smart money habits along the way?
Of course you do! Learning early about saving, spending and investing can pay off big when you start on the right foot. And one tool that can help your teen get that jump is the Fidelity® Youth Account—a brokerage account owned by teens 13 to 17 that's designed to help them start their investing journey. They can use their own brokerage account to start their investing journey by trading most U.S. stocks, exchange-traded funds (ETFs), and Fidelity mutual funds.
Your teen will also get a free debit card with no subscription fees, no account fees, no minimum balances, and no domestic ATM fees. And they can use this free debit card for teens4 to manage their cash and spend it whenever they need.
And as for building smart money habits? You and your teen can access Fidelity's Dedicated Youth Learning Center, which is packed with materials developed specifically to help teens develop good financial habits.
Controls Parents Want and Need
A parent or guardian must have or open a brokerage account with Fidelity® to open a Fidelity® Youth Account. For new Fidelity® customers, opening an account is easy, and there are no minimums and no account fees.
Parents and guardians have plenty of tools they can use to monitor their teen's activity: They have online account access, can follow monthly statements and trade confirmations, and can view debit card transactions made in the account.
To make it even easier, you can set up alerts to notify you of trades, transactions, and cash management activity, keeping you firmly in the loop on actions your teen takes across the Fidelity® Youth Account's suite of products.
If your teen has an interest in learning about investing and taking their first steps toward building their financial journey, you should consider opening a Fidelity® Youth Account. The account comes custom-built for their needs, which will help them become financially independent and start investing for their future.
Read more in our Fidelity Youth Account review.
Best Brokerage Account + Debit Card for Teens

Fidelity® Youth Account | An account where teens can save, spend, and invest

4.9

Open a Fidelity® Youth Account for your teen, and Fidelity will drop $50 into their account. Get $100 for yourself when you open a new Fidelity account and fund with $50¹.
Your teen will get a $50 reward once they download the Fidelity mobile app and activate their Youth Account².
No monthly fees or account minimums³.
They can invest in stocks for as little as $1 with fractional shares.
Your teen can learn to save and spend smarter with their own debit card with no domestic ATM fees

⁴

.
Teens can link their account to mobile payment apps like Venmo and PayPal

⁵

.
Parents can set up alerts and monitor their teen's account activity online, and through statements, trade confirmations and debit card transactions.
Dedicated Youth Learning Center to help jumpstart your teen's financial learning and build better money habits.
Pros:
No monthly account fees

Signup offer available to new users

Comprehensive financial suite for teens
Cons:
Parent must be a Fidelity account holder

Account balance doesn't accumulate interest

No chore or allowance system
See additional terms and details for the Fidelity® Youth Account at the end of this article.
Related: Best Investment Apps for Beginners
2. Greenlight App (Best Investment Account With Parental Controls)
---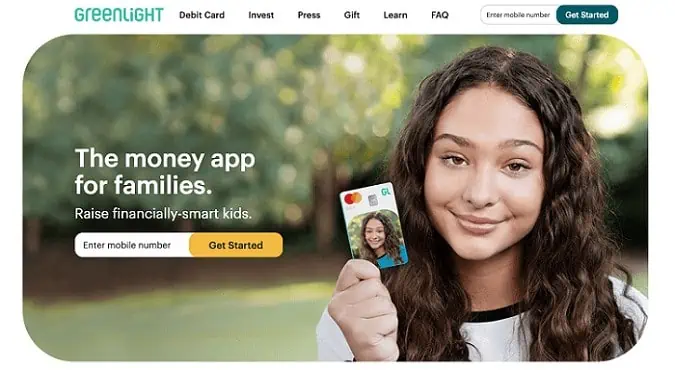 Available: Sign up here
Price: Free 1-month trial, then $9.98/mo. for Greenlight Max
Greenlight Max is an investment account for kids that comes paired with a debit card and bank account.
It's easy to use and can double as a savings account and banking apps for teens. The investing app will teach the basics of investing, how to invest in stocks and ETFs, and more.
It works best if parents and/or grandparents are involved in the process because it requires linked accounts from the adults' banks or brokerages. Plus, parents and guardians will need to approve trades made in the investment account.
The all-in-one plan teaches them important financial skills like money management and investing fundamentals—with real money, real stocks and real-life lessons.
You can use the investing feature to:
Start investing with as little as $1 in your account
Buy fractional shares of companies you admire (say, kid-friendly stocks)
No trading commissions beyond the monthly subscription fee
Teens can only invest in U.S.-listed stocks and ETFs that have either a market capitalization over $1 billion or a three-month average daily dollar volume of more than $500,000
Parents must approve every trade directly in the app.
Consider opening a Greenlight Card + Max account to start investing in a joint investment account as a teenager today. Each account supports up to five kids.
Greenlight currently offers a free one-month trial so you can see whether it really is one of the best investments for kids and, more importantly, meets all of your needs.
Learn more in our Greenlight review.
Our Investing + Prepaid Card for Kids Pick

Greenlight | The Investing App and Prepaid Card for Kids

4.8

Core: $4.99/mo. Max: $9.98/mo. Infinity: $14.98/mo. (Each account supports up to 5 children.)
Greenlight offers flexible parental controls for each child and real-time notifications of each transaction.
Greenlight is the only debit card letting you choose the exact stores where kids can spend on the card.
Parents can use this app to teach them how to invest with a brokerage account through Greenlight Max and Greenlight Infinity plans
Pros:
Best-in-class parental controls (can prohibit specific stores)

Can add brokerage account to invest in stocks

Intuitive Parent and Kid apps

Competitive cash back and interest rates
Cons:
High price points

No cash reload options

No parent / child lending
Related: Best Greenlight Alternatives
3. Acorns Early (Best Custodial Account That Transitions to Adulthood)
---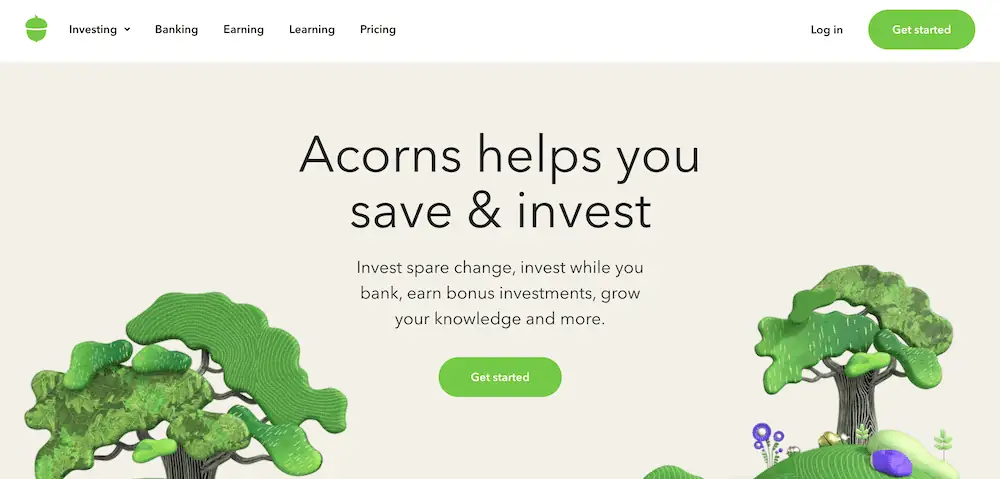 Available: Sign up here
Price: Acorns Personal: $3/mo. Acorns Personal Plus: $5/mo. Acorns Premium: $9/mo.
Acorns is an investing app geared toward minors, young adults and millennials by offering "Round-Ups": The app rounds up purchases made on linked debit and credit cards to the nearest dollar, investing the difference on your behalf.
For example, if you purchase a coffee for $2.60 on a linked credit card, Acorns automatically rounds this charge up to $3.00 and puts the 40-cent difference aside. Once those Round-Ups reach at least $5, they can be transferred to your Acorns account to be invested.
Users have seen an average of $30/month invested this way and makes the service one of the best investments for young adults who are looking to get started with saving and investing.
The investing app allows minors to have custodial accounts managed by their parent or legal guardian through their Acorns Premium tier. Making regular contributions over long periods of time can go a long way toward building lifelong wealth. Using an investing app like Acorns could also be the best way to invest $1,000 for a child's future and save money.
Acorns has the following subscription options:
Acorns Personal ($3 per month): Includes an Acorns Invest investment account, as well as Acorns Later for tax-advantaged investment options such as Roth IRAs. Also includes Acorns Checking, a bank account that has no account fees, lets you withdraw fee-free from more than 55,000 ATMs nationwide, and Smart Deposit, which allows you to automatically invest a bit of each paycheck into your Acorns accounts.
Acorns Personal Plus ($5 per month): Everything in Acorns Personal (Acorns Invest, Later, and Checking), plus Premium Education, which are live onboarding sessions covering account setup, Round-Ups, setting up recurring investments, and more; Emergency Fund; and a 25% bonus on Acorns Earn rewards (up to $200 per month).
Acorns Premium ($9 per month): Everything in Acorns Personal Plus, plus Acorns Early, which allows you to open a custodial investment account for your child so you can begin investing for them while they're a minor; custom portfolios that allow you to hold individual stocks; live Q&As with financial experts; a 50% match on Acorns Earn rewards (up to $200 per month); $10,000 in life insurance; even the ability to set up a will for free.
Learn more in our Acorns review.
Micro-Investing App

Acorns | Invest, Earn, Grow, Spend, Later

3.6

Personal: $3/mo. Personal Plus: $5/mo. Premium: $9/mo.
In under 5 minutes, Acorns allows you to get investment accounts for you and your family, plus retirement, checking, ways to earn more money, and grow your knowledge.
Famous for investing spare change automatically through Round-ups, this all-in-one financial app helps younger generations start investing earlier.
Invest in expert-built portfolios made up of diversified ETFs.
New Premium tier includes perks such as live Q&As with financial experts, a 50% match on Acorns Earn rewards (up to $200/mo.), $10,000 in life insurance, and the ability to pick individual stocks for their portfolios.
Special offer: Get $20 to start*.
Pros:
Robo-advisor with affordable fees (on larger portfolios)

Fixed fee model

Round-Ups
Cons:
High fixed fees for small balances

Limited investment selections

Must subscribe to Premium for any self-directed investing options
* Must make a minimum $5 investment to receive bonus.
Related: Best Acorns Alternatives: Micro-Investing Apps to Use
4. EarlyBird (Custodial Accounts With Personal Touches)
---
Available: Sign up here
Price: $2.95/mo. for one child, $4.95/mo. for families with 2+ children
EarlyBird is a mobile app that allows parents and guardians to set up a UGMA account, where they can quickly start investing for their children. It also allows friends and family to easily gift money to a child in EarlyBird's investing accounts for children.
EarlyBird allows you to choose from five strategic ETF-only portfolios, with investing goals ranging from conservative to aggressive, based on your stated risk tolerance and overall investor profile. This removes the complexity of conducting your own research or selecting specific investments.
Do family and friends want to provide a gift, but think money is too impersonal? With EarlyBird, they can record a video to go along with their financial contribution, personalizing these moments which last a lifetime. And if you'd like to give but the recipient doesn't have an EarlyBird account, you can text them a link from the app to the recipient's phone number.
EarlyBird also has a "Moments" feature that allows parents to begin to save and share special milestones and memories alongside their investments. Parents can add a "Moment" to their child's timeline at any time by uploading photos or videos with notes to capture magical moments as their child grows—no contributions necessary (but naturally encouraged). You can choose to automatically share Moments with anyone else who has invested in your child on EarlyBird, but each Moment also has its own unique link that you can share with people outside of the app.
An EarlyBird investment account costs $2.95 per month for one child, or $4.95 per month for multiple children. When parents or guardians set up a new custodial investment account through EarlyBird, they must start with a $15/month recurring contribution minimum. However, you can change that recurring contribution amount higher or lower as your budget allows or necessitates.
Consider opening an EarlyBird account today and receive $15 to get you started after opening your account. Also, EarlyBird currently is in the "early access" stages of a cryptocurrency offering. Through a partnership with Gemini, one of the world's largest and most secure crypto exchanges, EarlyBird also offers a crypto wallet that can hold Ethereum and Bitcoin when you sign up for an investment account. You will receive $25 when you open your wallet to invest in Ethereum or Bitcoin, and you can also earn a $50 referral bonus, which you can invest in the same token of choice, when you refer three other families.

EarlyBird | Custodial Account

4.6

$2.95/mo. for one child. $4.95/mo. for families with 2+ children.
EarlyBird empowers parents, family and friends to invest in the next generation through custodial accounts.
Send and receive financial gifts to invest in children.
Offers managed and auto-rebalanced portfolios of ETF-based investments based on the child's age, investment goals, time horizon, risk tolerance, and other factors.
Receive $15 to invest by opening an account today.
Only available to U.S. residents who are new, first-time EarlyBird users.
Related: Best Brokerage Account Sign-Up Bonuses, Promotions and Deals
5. UNest (Custodial Account With Bonus Offers)
---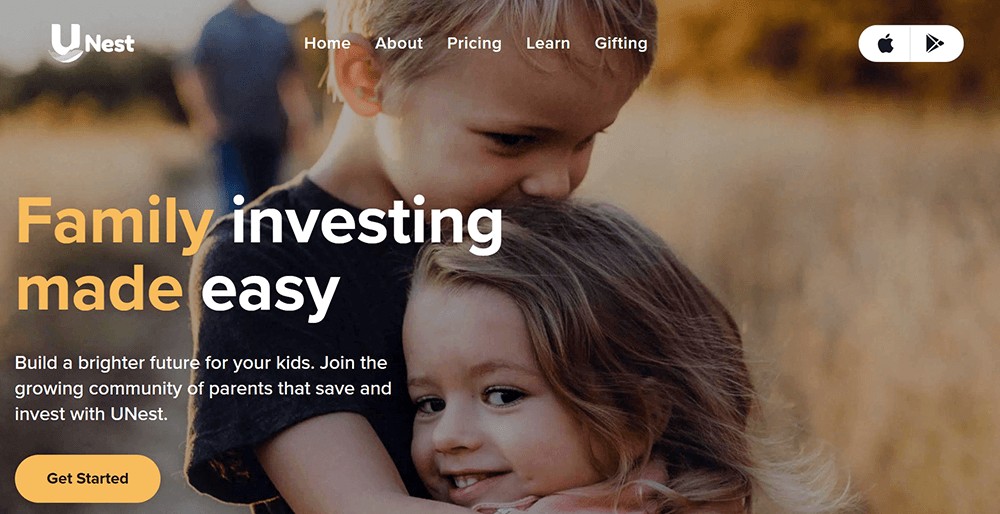 UNest is a custodial account that allows parents to invest money for their kids to pay for many of life's major milestones—college, a new car, a wedding, a vacation, or anything else a minor might want someday.
UNest offers the UNest Investment Account for Kids through its app, which makes it easy for families of all income levels and backgrounds to set up and manage savings and investment plans for their kids. UNest also has a gifting feature that allows friends and relatives to contribute to your kid's account with just a few clicks. These personalized gifts can be automated, too, so they never miss a birthday or holiday!
The app offers up several investment options for account owners:
A conservative option investing in fixed income and bond ETFs
Three age-based options with varying degrees of risk reflected in the investment mix (conservative, moderate, aggressive); these transition from more aggressive investments to conservative as the child gets owner and gains access to the funds
Three socially responsible age-based options also with varying degrees of risk (conservative, moderate, aggressive), likewise on the investment mix transition strategy from aggressive to conservative over time
An aggressive option that invests 100% of the funds in Vanguard equity index ETFs
You can also invest in cryptocurrencies for your child through a separate UNest Crypto account.
Account holders can receive bonuses for their children's UNest accounts via partner offers from companies such as Disney, AT&T, Uber, DoorDash, Levi's, and more, through the UNest partner program.

UNest | Easy College Savings App

$4.99/mo. (Unlimited children on one account)
UNest is a tax-advantaged custodial investment account for kids. It allows them to save for an education, first car, house, wedding, or even for their financial security as an adult.

Friends and relatives can gift to your child's account with just a few clicks, or even automate their gifts.

UNest's investment options are portfolios of various low-cost ETFs that can achieve a variety of goals. They include a conservative portfolio made up of just fixed income and bond ETFs; three age-based options that hold bonds and stocks in conservative, moderate, or aggressive allocations; three similar options that are centered around socially responsible investments; and an aggressive portfolio made up of only stock ETFs.
Accounts enjoy up to $2,300 in tax advantages: $1,150 is tax-free, and the other $1,150 is taxed at the child's tax rate.
Special offer:

New users get $30 free when they use promo code YOUNG30 and make their first deposit.
Related: Best Online Jobs for Teens to Earn Money From Home
6. Webull (Best Trading App for Age 18+ Only)
---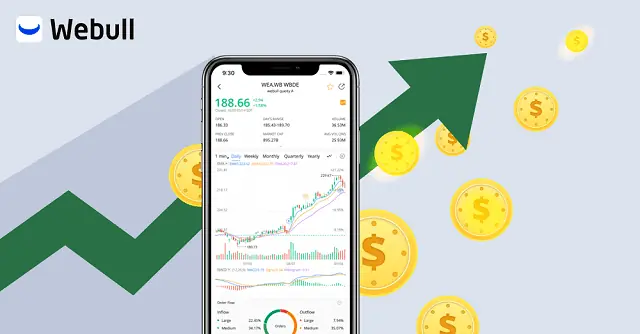 Available: Sign up here
Price: Free to download, no stock/ETF trade commissions
Webull is a relatively new market entrant in the investing space, launching in 2018. Despite this, they've created a very powerful self-directed investing experience for anyone looking to cut their teeth on trading and long-term investing.
As an added benefit, they offer a robust paper trading product to allow you to learn about market and stock movements without exposing your own money to loss.
The company is a free stock trading app that also provides free trades of ETFs, options and cryptocurrencies through its mobile app or desktop site. In other words: You pay no commissions for trades you make in your portfolio.
Webull does not currently offer custodial accounts, so while this is one of the best trading apps for teens, we're talking about the high teens: 18 and 19. Young adults can use this app once they reach the age of majority and make their own investment decisions. The company also offers free stocks for users who sign up.
Read more in our Webull review.
Commission-Free Self-Directed Investing App

Webull | No Minimums, Free Trades

4.9
Webull is a low-cost trading and investing app that allows you to invest in stocks, ETFs, options, and crypto, and participate in initial public offerings (IPOs).
Commission-free trades on stocks, ETFs, and options.
Trading features include charting tools, technical indicators, customizable screeners, real-time stock alerts, and group orders.
Let Webull manage your money for you with Webull Smart Advisor, which combines Webull's in-house investment expertise and artificial intelligence to build, manage, and rebalance an ETF portfolio for you.
New users also get one free month of Nasdaq TotalView's Level 2 Quotes service. (That subscription costs $2.99/mo. thereafter.)
Sign up for Webull Cash Management to earn a 5.0% APY without fees, minimums or limits on withdrawals.
Special offer: Open an account and deposit any amount to receive 12 free fractional shares, collectively worth between $52-$36,000.
Pros:
Good selection of available investments

Fractional shares

Powerful technical analysis tools

Offers robo-advisory services

Accessible to beginning and intermediate users

Voice commands

Offers highly competitive APY through Webull Cash Management
Cons:
Does not support mutual funds
Related: 13 Best Allowance and Chore Apps for Kids [Easier Family Life]
7. Step (Best Free Money App for Teens)
---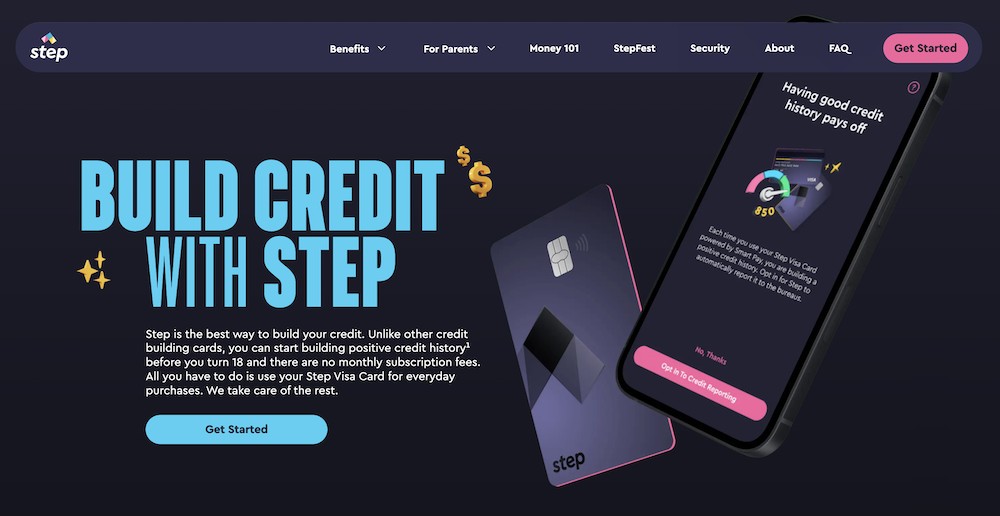 The free Step Visa Card is a unique "hybrid" secured credit card that's tailor-made for kids and teens. It has the safety of a debit card, but it functions like a Visa credit card—including the ability to build your child's credit history.
Parents, who sponsor the card for their child, add money to this FDIC-insured account and can determine how their child can spend. A regular Step account allows a child to have both a physical spending card as well as a virtual card in the Step app, while a Parent Managed Account only allows the child to spend via a physical card. Either way, they can use their card anywhere Visa is accepted. Children can also use their cards to withdraw money from more than 30,000 ATMs for free.
And parents needn't fear that their child will overdraft—they can't spend any money they don't have.
Further, the Step Card comes protected by Visa's Fraud Protection and Zero Liability guarantee. That means if your teen's card gets lost or stolen, or misplaced and fraudulent charges crop up, you can dispute the charges within a certain time frame to avoid liability for paying.
The Step Card also comes with fantastic savings benefits. Users earn 5% annually—compounded and paid monthly—on up to $250,000 saved in their Savings Goals. Like with your average savings account, Step's savings yield can change depending on movements in the Federal Funds Rate, but if that happens, Step will give you 30 days' notice before it happens.
To qualify, the user must have a direct deposit of at least $500 per month, and the benefit extends for as long as the direct deposits continue. So even if your teen just holds down a summer job for three months and meets the qualifying direct deposit, they can still enjoy three months of high interest. (Other perks of making a qualifying direct deposit? Bonus points on dining, food delivery, charitable donations, specific merchants—and you can get paid up to two days early.)
You can boost your savings potential even more with Savings Roundup. With this feature, small purchases are rounded up to the nearest dollar figure, and that extra money is put toward a Savings Goal. For instance: Let's say your child buys a cup of coffee for $2.75; Step rounds up to $3.00 and puts 25 cents toward a goal.
Step even features an "invest" function that allows children age 13 and older to buy and sell Bitcoin for a small transaction fee alongside stock investments. They can also earn Bitcoin (or cash) rewards when they opt into offers from companies like Hulu, Chick-Fil-A, CVS, and The New York Times. The app is not a pure crypto wallet, however—your kids currently can't spend Bitcoin directly at vendors.
One of the most unique and powerful features of the Step card is its ability to build your child's credit history. With this optional feature, Step will report the past two years' worth of information—transactions, payment history, and more—to the credit bureaus when your child turns 18. That can greatly improve their chances of starting adult life with a better credit score, which can help lower the cost of things like student loans and auto insurance.
Lastly, Step is absolutely free: No monthly fees, no subscription fees, no account minimum fees, and no ATM fees within Step's network of 30,000-plus ATMs.
Best for Building Credit

Step | Banking for the Next Generation

4.9
The Step Visa Card is a one-of-a-kind "hybrid" spending card that can help you to build your credit history via everyday purchases, even before you turn 18.
Earn a high 5% annual rate on up to $250,000 in your Savings Goals with qualifying direct deposits.*
Buy and sell fractional shares of stocks, ETFs, and Bitcoin for as low as $1.
Earn cash and crypto rewards when you use your Step Visa at participating merchants.
Send and receive money instantly, spend with Apple and Google Pay.
Pay allowance weekly, bi-weekly or monthly.
Track your card balance from the Step App.
Banking services, provided by Evolve Bank & Trust, are FDIC-insured for up to $250,000.
Pros:
Helps build credit

Free secured card for kids, teens, and young adults

High yield on money held in Savings Goals

Free investment account for stocks, ETFs, and Bitcoin

Fractional investing for as low as $1
Cons:
High-yield savings only available with qualifying monthly direct deposit*

Can't directly deposit cash or checks into a Step account
* Users must have a direct deposit of at least $500 per month to qualify. Benefits continue for as long as the user maintains the monthly $500 minimum direct deposit.
For Step disclaimer, please see the fine print at the bottom of this article.
Related: 12 Top Banking Apps for Kids
8. Copper Card (Best for Teen Independence)
---
Available: Sign up here
Price: 30 days free. Copper: $4.95/mo. and Copper + Invest: $7.95/mo.
Copper Banking was founded on the belief that kids and teens should have equal access to financial education and should be empowered to learn by doing. Now, the company is on a mission to help children gain real-world experience by giving them access to their money in a way that traditional banks can't.
The Copper app and debit card teaches your child how to make smart financial decisions by creating a platform where parents and their kids can connect. With the Copper app, you get easy snapshots of your accounts. And with the Copper Debit Card, it's easy to shop in-store or online, including with Apple Pay or Google Pay.
Plus, users get exclusive access to engaging advice curated by a team of financial literacy experts who provide tips on how to take control of their financial future.
Copper Banking Features:
Send/Request: Kids and parents can easily send and receive money all at the touch of a button.
Spend: Spend using Apple or Google Pay, or using the Copper Debit Card.
Withdraw: Access your money from more than 55,000 fee-free ATMs.
Monitor: Get a snapshot of all your child's spending in an easy-to-read dashboard.
Save: Gain quick snapshots of your kid's savings and helpful tips on how to save even more. Set up savings buckets and save for the things that you want.
Learn: With the help of Copper's team of financial literacy experts, gain bite-sized tips on how you can maximize your money and prepare yourself for your financial future.
The basic Copper account includes the above banking features. With Copper + Invest, your child also gets access to automatically curated smart portfolios built with their preferences in mind. Your child is given a questionnaire that helps Copper determine a portfolio based on their age, income, net worth, investment objective(s) and investment horizon. Copper then recommends one of three ETF portfolios—Moderately Aggressive, Aggressive, and Extra Aggressive—made up of thousands of stocks. Parents can review the portfolio to ensure it matches with not just your child's preferences, but your family's. (Portfolios can be changed later on by accessing the Support chat.)
Your child can begin investing for as little as $1, then add more contributions down the road. Copper will automatically rebalance the portfolio as needed to make sure it always keeps up with your child's investment preferences.
Copper is available to kids 6 years and older.
Read more in our Copper Banking review.
Debit Card for Kids + Teens

Copper Banking | Banking Built for Kids

4.4

30 days free. Copper $4.95/mo., Copper + Invest: $7.95/mo.
Copper is the digital bank and debit card for teens built with the mission of creating a financially successful generation.
Send/Request:

Teens and parents can easily send and receive money all at the touch of a button.

Spend:

Pay with a digital wallet via Apple Pay or Google Pay or use the physical Copper Debit Card.

Monitor:

Get a snapshot of all your spending in an easy-to-read dashboard.

Save:

Gain quick snapshots of your savings and helpful tips on how you can save even more. Set up savings bucks and save for the things that you want.

Learn:

With the help of Copper's team of financial literacy experts, learn more about how to maximize your money and prepare yourself for your financial future.
Pros:
Allowance administration

Financial education resources

Network of 55,000-plus fee-free ATMs
Cons:
No chores tracking or assignment

No parental controls beyond notifications
Related: How Old Do You Have to Be to Buy Stocks?
9. Learn by MyWallSt (Investing Education App)
---
Learn by MyWallSt is a simple, intuitive app that can quickly get you up to speed on stock investing and other important financial concepts.
The ease of use and course design are perfect for beginners. Learn by MyWallSt kicks off by helping people understand why it's important to invest, which includes introductions to ideas such as financial goals, compound interest, and the importance of saving. From there, it jumps into defining the building blocks of investing, including stocks, stock exchanges, the S&P 500, dividends, and more.
Learn by MyWallSt's lessons become more advanced after that, covering the process of finding great companies, digging into financial records such as income reports and balance sheets, and understanding the importance of a business's cash and debt.
The app ties everything together by teaching you how to buy your first stock, the importance of diversification, how to build a portfolio, when and how you should finally sell your shares—and it even lays out a few mistakes that investors should try to avoid.
What sticks out most, though, is how this information is delivered. Each part of the course is broken down into a handful of lessons, and the app tracks your progress as you complete each lesson. The lessons themselves are easily digested, at just a couple hundred words each, and you can even listen to each lesson with the press of a button.
And that's pretty much it. Learn by MyWallSt is light on frills, but we feel that this streamlined, ad-free experience is the ideal delivery method for teens who are just starting to learn the basics.

Learn by MyWallSt | Stock Market Education
Learn by MyWallSt offers digestible investment education morsels in a simple-to-use app.
The course is well designed, starting with basic terminology and concepts before evolving into more complex topics and showing users how to evaluate investments and build a portfolio.
Pros:
Simple, intuitive design

Logical course progression

No ads
Related: Best Money Apps for Kids to Start Learning Finances
10. Best Brokers (Stock Game App)
---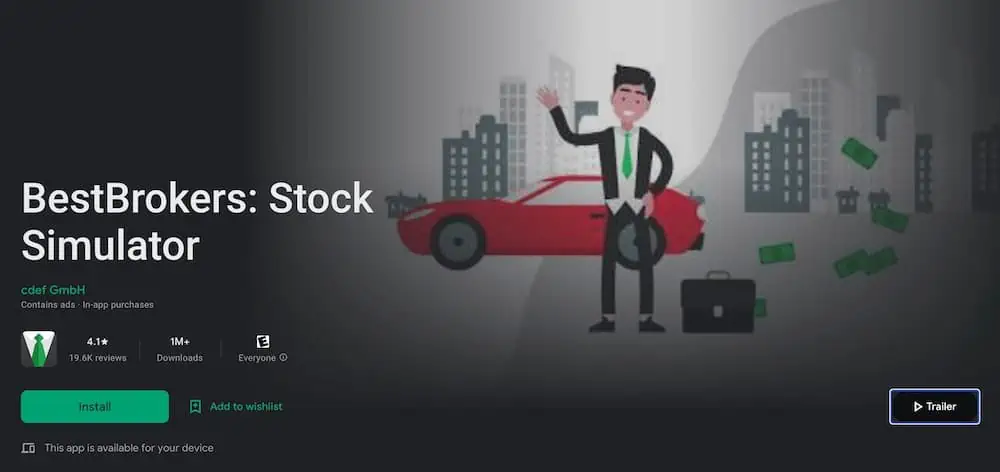 You can find great stock market simulators within several popular brokerage accounts, and there are even a few great browser-based paper-stock games.
However, free stock market simulator apps are fairly flawed, on the whole. The best we've found is (appropriately) named Best Brokers.
Best Brokers is a paper stock trading app in which you use fake money to invest in very real companies—including kid-friendly stocks such as Apple and Microsoft, plus the rest of the U.S. stock market.
The app starts you out with $25,000 in play money. It uses real-time market data, and you invest during real market hours (9:30 a.m. to 4 p.m. Eastern). The realism is a neat feature, though it does pose some difficulties—teens typically are in class during the trading day, so they often can't use the app to see how things work in real time, plus it can also be inconvenient to kids who don't live in the Eastern Time Zone.
Still, it's a place to practice buy-and-hold investing and trading alike. Best Brokers also allows you to compete with friends, send messages, and view a leaderboard.
Best Brokers also includes a news feed that includes articles from CNBC and Nasdaq, but it's an unfiltered feed—one that includes useful company-specific news, sure, but also numerous chart- and data-based articles that are only really useful to professional traders, as well as other stories that have nothing to do with investing.
The app itself isn't intuitive, either; we strongly suggest that you review the FAQs and starter videos before starting the game itself. And Best Brokers includes some European shares that you might not be able to access once you open up a brokerage account of your own.
All of that said, Best Brokers is the best of a flawed group of apps, and a suitable place to practice once you've learned the basics.

Best Brokers | Stock Market Game
Best Brokers is a realistic, real-time paper stock trading apps that allows you to practice by investing fake money in real stocks listed on U.S. exchanges.
Wondering how well you're investing? Check out the leaderboard or compete against your friends.
News feed actually puts you in touch with investing articles from CNBC and Nasdaq.
Pros:
Free

Uses stocks of real companies

Robust news feed
Cons:
Interface can be difficult to use

Trading takes place during stock market hours only, which can be difficult on children in class as well as people who don't use Eastern Time.

News feed isn't filtered, serving up a lot of content that isn't helpful to beginners
Related: Best Kid Debit Cards
How to Invest Under 18: Investing as a Teenager
---
The best investments for a teenager will include a combination of the most basic building blocks of any portfolio: individual stocks, mutual funds and exchange-traded funds (ETFs). Many of the investing apps for under 18-year olds above offer access to these three asset classes and provide educational resources to equip teens with the financial knowledge they need to develop their investing prowess.
They all require the help of a trust adult, typically a parent or guardian, but provide clear connections between adult and teen during the investing process. To be blunt: Because minors can't invest by themselves, they'll need to use the apps above in concert with an adult to start investing.
How to Choose the Right Finance App
---
Now that you've reviewed this laundry list of various investing apps for teens and young adults, how do you know which investment app for teens is right for you?
Many of these apps offer similar features, from money management tools and financial planning software for young adults, to apps that let you invest in the stock market or cut down on your expenses. And there are so many—simply scroll through Android's Play Store or Apple's App Store, and you'll be overwhelmed—that narrowing your choice down to one might be easier said than done.
How to choose the right finance app, then, comes down to cutting through the clutter by thinking about what you specifically need to accomplish, then avoiding any apps that don't do that. After that, it's about finding the right set of features.
So if you're trying to whittle down a long list of stock apps, here's a quick four-step strategy that should help you settle on one.
Focus on the goal you're trying to achieve
Consider your time and money commitments
Review the features offered and determine if they're worth the price (or time)
Compare apps' scores and reviews
With these guiding principles in place, sift through the list of teen investing apps above. If one of those apps will help you achieve your goal, not cost you too much time and/or money, has the features you want, and is well-thought-of by current users … well, it's probably time to download it and give it a try!
Financial Planning for Teens and Young Adults
---
The investing apps for teens listed here aim to address one or more financial problems you might face. This can include financial automation, notifications, management, expense reduction, increasing your saving contributions, and much more.
While none of these trading apps for teens can instill financial literacy overnight, nor can they serve as a substitute for sound financial decision-making, they all work in some way to encourage good financial behavior.
If they didn't, I wouldn't have included them on the list.
However, it doesn't hurt to learn a little bit right now, so here are a few financial tips for teens and young adults:
Learn to live within your means
Develop a sense of self-control
Don't financially handicap yourself by not saving for your future
Understand where your money comes from and where it goes
Save for your retirement now
Start an emergency fund
Don't skimp on your health and investing in yourself
Protect your wealth with the appropriate insurance (e.g., life insurance, etc.)
You'll also want to invest in your future by learning about teenage investing and stock trading for kids.
Related:
---
Terms and Conditions for Fidelity® Youth Account
The Fidelity® Youth Account can only be opened by a parent/guardian. Account eligibility limited to teens aged 13-17.
1 Limited Time Offer. Terms Apply. This offer is valid for new or existing Fidelity Brokerage Services LLC ("Fidelity') customers who open through the following link https://www.fidelity.com/go/starter-pack and fund a new, eligible Fidelity account with a minimum of $50 on or after 07/20/2022 and have not otherwise previously taken advantage of Fidelity's $50 for $100 cash offer. Offer is limited to one bonus award per individual.
2 Limited Time Offer. Terms Apply. Before opening a Fidelity® Youth Account, you should carefully read the account agreement and ensure that you fully understand your responsibilities to monitor and supervise your teen's activity in the account.
3 Zero account minimums and zero account fees apply to retail brokerage accounts only. Expenses charged by investments (e.g., funds, managed accounts, and certain HSAs) and commissions, interest charges, or other expenses for transactions may still apply. See Fidelity.com/commissions for further details.
4 Your Youth Account will automatically be reimbursed for all ATM fees charged by other institutions while using the Fidelity® Debit Card at any ATM displaying the Visa®, Plus®, or Star® logos. The reimbursement will be credited to the account the same day the ATM fee is debited. Please note, for foreign transactions, there may be a 1% fee included in the amount charged to your account.
5 Venmo is a service of PayPal, Inc. Fidelity Investments and PayPal are independent entities and are not legally affiliated. Use a Venmo or PayPal account may be subject to their terms and conditions, including age requirements. 
Fidelity Brokerage Services LLC, Member NYSE, SIPC, 900 Salem Street, Smithfield, RI 02917
---
Terms and Conditions for Step
Step is a trademark of Step Mobile, Inc.
Credit to
Source link