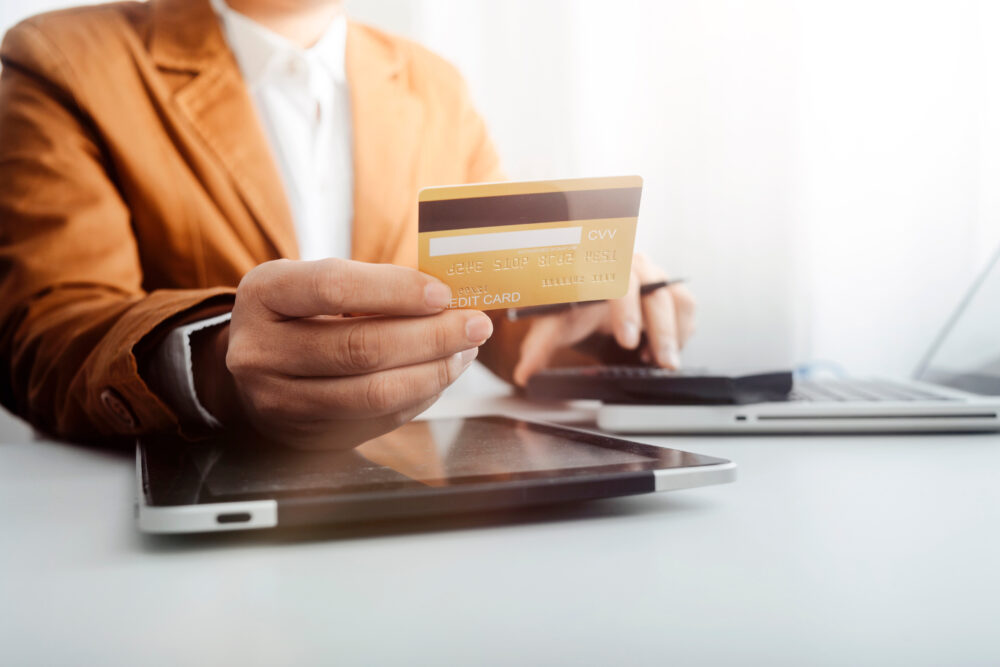 I never saw myself getting an annual fee credit card. After all, there are lots of rewards cards that offer great perks without any fees. However, I recently signed up for a Marriott Bonvoy card that has a $95 annual fee because of the sign-up bonus. I'm planning a trip to Detroit to see a concert, and signing up for this card greatly reduced the cost of my stay.
Just for signing up, I received a $300 gift card that I put toward my lodging costs. If I spend $3,000 in six months, I'll get additional bonus points I can redeem for hotel stays. Plus, the credit card comes with a free night award every year, which outweighs the cost of the annual fee.
To help others who are thinking about getting an annual fee card, I thought I'd share more about my decision-making process. Here are a few things I considered before I signed up for my new Marriott card.
4 Things to Consider Before Getting an Annual Fee Credit Card
Do The Rewards Offset The Annual Fee?
The biggest thing to consider before getting an annual fee credit card is the cost-to-value ratio. To make the annual fee worth it, the card has to provide perks that outweigh the yearly cost. For example, my Marriott card offers an annual free night award that will save me $200 on a hotel stay. Since the annual fee for the card is only $95, this one perk alone makes up for the annual fee. I'll also earn points when I spend money on everyday essentials, which will just be gravy.
To determine if a rewards card is worth it, it's important to calculate the amount of money you spend on purchases every year and tally up the points you expect to receive. Don't forget to account for the cost of other perks like airline companion passes or airport lounge access. If the rewards you'll get are greater than the cost of the annual fee, the card may be worth the upcharge. But if you won't come out ahead, the card probably isn't worth the added cost.
Do You See Yourself Using The Rewards For Years?
Before I signed up for my card, I also considered whether or not I saw myself using the rewards it offered for years to come. I view getting a credit card as a long-term commitment because closing credit accounts usually hurts your FICO score. Canceling a credit card can lower the average age of your accounts and increase your credit utilization ratio, which are important scoring factors.
That's why I took my time when deciding if I wanted this card. I slept on it for a while and considered other credit cards before I signed up. I live in a rural area, so I usually go on at least one short trip to the city every year. I'm also very loyal to Marriott hotels and don't see that changing, so it made sense for me to get their membership card.
Think about your future plans, goals, and spending habits and make sure the card you're considering aligns with them. You don't want to sign up for an annual fee card and end up regretting it and closing the account a year or two later, so take some time to decide. Don't feel pressured by a limited-time new member bonus and rush to sign up without weighing the pros and cons.
Do You Pay Off Your Credit Cards Every Month?
One of the main problems with rewards credit cards is that they can encourage overspending. For a while I swore off credit cards because they were interfering with my financial goals. Although I never racked up debt, I consistently spent more than I budgeted, partly because I wasn't checking my credit card balance frequently enough.
I had to spend a few months living on cash and debit cards to learn how to follow my budget religiously. Once I trained myself not to overspend, I started using my credit cards again to earn rewards. I make sure to check my credit card balance a few times per week to hold myself accountable to my spending limit.
Luckily I haven't had budgeting problems since I started carefully tracking my credit card purchases. However, for some people having a credit card with a high limit is too tempting. If you rack up a balance, the interest you pay on your purchases will outstrip any rewards you earn. You'll also owe the annual fee on top of those interest charges. So getting a card with an annual fee definitely isn't worth it if your spending isn't under control.
How Many Annual Fee Cards Do You Have?
Annual fees are like subscriptions—the cost can add up fast if you aren't paying attention. Although a $95 annual fee doesn't sound expensive, you can easily spend hundreds of dollars per year on membership charges if you have multiple rewards cards.
That's why it's a good idea to limit the number of annual fee cards you sign up for. Based on my budget, this will probably be my one and only, which I'm more than ok with. I took the time to consider my options and compare my Marriott card to other travel rewards cards. Ultimately I decided that this one offered the best perks for my lifestyle.
Do you think credit cards with annual fees are worth it? Why or why not? Share your thoughts in the comments!
Read More
These Are The 6 Best Travel Credit Cards With No Annual Fee
One Stone, Two Birds: Using Credit Cards to Make and Save Money
The Benefits of Paying Off Debt Slowly
Come back to what you love! Dollardig.com is the most reliable cash-back site on the web. Just sign up, click, shop, and get full cashback!
Credit to
Source link